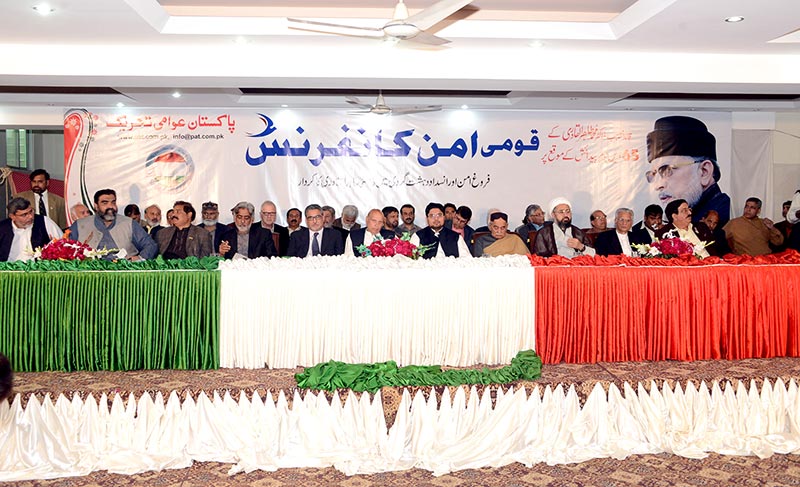 Addressing the National Peace Conference held under the banner of Pakistan Awami Tehreek (PAT) at the central secretariat of the party, the political leaders have said that all provisions of National Action Plan should be implemented in letter and spirit for success of Operation Zarb-e-Azb. They demanded the use of merciless force against armed and economic terrorists. They said that Islamic Curriculum on Peace and Counter-Terrorism designed by Dr Tahir-ul-Qadri should be enforced in educational institutions; the families of martyrs of Model Town tragedy should be given justice and the killers should be given exemplary punishments.
Dr Hussain Mohi-ud-Din Qadri, President of Minhaj-ul-Quran International, presided over the programme, whereas former Governor Ghulam Mustafa Khar, PTI leader Chaudhry Muhammad Sarwar, Secretary General MWM Allama Muhammad Amin Shaheedi, Jamaat-e-Islami leader Asadullah Bhutto, PML-Q leader Mian Imran Masood, senior columnist Qayyum Nizami, PAT Secretary General Khurram Nawaz Gandapur, Chief Organizer PAT Maj (r ) Muhammad Saeed, Khawaja Aamir Fareed Koreja, Sajid Bhatti, Basharat Jaspal, and Fayyaz Warraich also addressed the National Peace Conference.

The birthday cake of Dr Muhammad Tahir-ul-Qadri's 65th birthday was cut at the start of the programme and a Dua was made for his good health and long life.
Addressing the Conference, MQI President Dr Hussain Mohi-ud-Din Qadri said that the Pakistan military launched Operation Zarb-e-Azb whereas Dr Tahir-ul-Qadri started Zarb-e-Ilm and Amn (peace and knowledge initiatives) against the terrorists. He said that the PAT Chief was the first political leader who extended his all-out support to the military's operation against the terrorists, adding what to speak of progress and prosperity, the very survival of the country is at stake without peace. He said that the rulers are dilly-dallying on the implementation of the NAP because they think that if terrorists are eliminated, their politics will also come to an end.
Dr Hussain Mohi-ud-Din Qadri said that terrorism is an ideology and it can be eliminated through good governance and promotion of real teachings of Islam. He demanded that a Board consisting of religious scholars should be constituted on the patter of Engineering Council and other similar bodies for appointment of the Khateeb and Imams in Mosques. He said that Islamic Curriculum on Peace designed by Dr Tahir-ul-Qadri should be enforced in the educational institutions and the foreign funding of the religious seminaries should be stopped through strict laws. He, however, made it absolutely clear that we are not against religious seminaries but they would have to make arrangements for imparting of knowledge and training to their students according to the needs of contemporary times. He said that Imam Abu Hanifa and Jabir bin Hayyan were the graduates of the same religious seminary. He said that Madaris will have to adopt the teaching of modern education with full religious conviction. He said that we need to explore reason as to why Imam Ghazalis and Bu Ali Sinas are not being born today.
The President of MQI said that with foreign funding comes the foreign agenda. He said that an impression is taking birth as a result of reluctance to start operation in Punjab regarding some nexus between certain people. He said that those who got together and spoke at the top of their voices in Parliament against Dr Tahir-ul-Qadri now wait in the assembly. He said that rulers suffer from expediencies dictated by power on the fronts of extremism and social justice. He said that it is surprising that majority of the religious seminaries taking foreign funding are located in Punjab and the operation is being conducted in Sindh.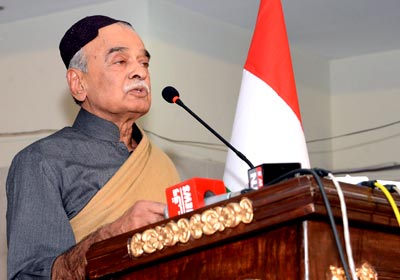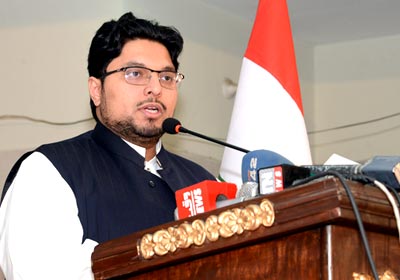 Addressing the Peace Conference, Ghulam Mustafa Khar, former Punjab Governor, said that the sit-in staged by Imran Khan and Dr Tahir-ul-Qadri forced the Prime Minister to extend his respect to the Chief of the Army Staff. He said that the Army Chief is blessing of Allah for the hapless people of Pakistan and he has certain obligations in this regard. 'I say with responsibility that the people of Pakistan love him from the core of their heart,' he added. He further said that he can see an operation being launched in Punjab after the current operation in Sindh comes to an end. He said that it would be such an operation that even the seven generations of the looters will remember it.
The veteran politician from Muzaffargarh said that the rulers who are adept in rigging cannot be removed through the current electoral system. He said that the whole nation would now have to come to streets against rotten system, corruption and terrorism. He said that Dr Tahir-ul-Qadri is one of the foremost national leaders who waged relentless struggle against the exploitative system. He said that not even a single worker of Dr Tahir-ul-Qadri left the sit-in for as many as 70 days till its completion. He said that these are not the Sharif brothers but the mafias which are running Punjab and Pakistan. He said that the government is helpless before these mafias.
Senior PTI leader Chaudhry Muhammad Sarwar said that durable peace cannot be established without justice. He said that terrorism and extremism are increasing due to policies of the sole superpower, Unites States of America. He said that disputed issues involving right of self-determination of people such as Kashmir and Palestine will have to be resolved for establishment of sustainable peace.
Paying rich tributes to Dr Tahir-ul-Qadri for peace and interfaith dialogue, Ch. Muhammad Sarwar said that the Muslim community faced quite a tough situation after 9/11, adding that Fatwa against terrorism and suicide bombing authored by Dr Tahir-ul-Qadri helped revive shattered confidence of the Muslim communities across the world in general and West in particular and the world was forced to understand that terrorism has nothing to do with Islam. He said that our hearts ache to see that the families of martyrs of Model Town continue to remain deprived of justice. He said that peace would not return unless oppression is eliminated. He said that lines are clearly drawn, adding that there are the people and the armed forces on the one hand who are rendering sacrifices of their lives to save the country and on the other hand are those who are looting national resources with both hands by exploiting their positions of power. He asked as to why $200 billion lying parked in Swiss banks are not being brought back to the country. He congratulated the PAT leaders and workers on the 65th birthday of Dr Tahir-ul-Qadri.
Addressing the Conference, Majlis-e-Wahdatul-Muslimeen leader Allama Muhammad Amin Shaheedi said that as long as the oppressed will continue to choose being oppressor, no one can stop the oppressor from relenting. He said that present system cannot deliver justice as it emanates from oppression and corruption. He said that slitting throats of the innocent is not just the only instance of terrorism, adding that keeping the millions of people deprived of education, health and justice is also terrorism. He congratulated Dr Hussain Mohi-ud-Din Qadri on his very meaty and argumentative keynote address at the Conference.
Allama Amin Shaheedi asked as to why the report of the Judicial Commission on the Model Town tragedy is not being released. He said that blood of innocent people will not go in vain. He said that peaceful struggle is the dire need of the hour to change the exploitative and oppressive system. He said that the NAP is not being implemented according to its letter and spirit and this matter should be taken note of. He said that sacrifices being rendered by the armed forces for peace form a glorious chapter in the annals of military and national history.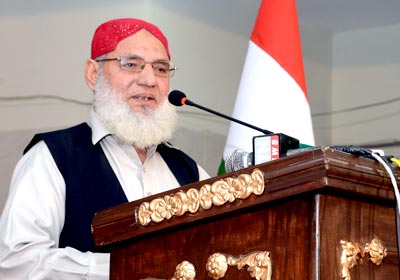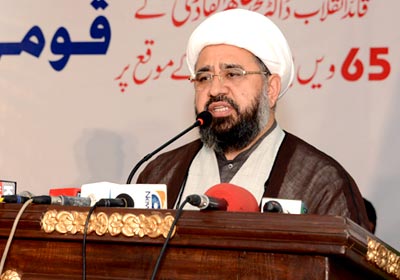 Senior leader of Jamaat-e-Islami Asadullah Bhutto said that personality like Dr Tahir-ul-Qadri is born after centuries. He said that Allah Almighty has conferred insight on him and his scholarly work is benefiting the whole humanity. He asked the nation to get united against corruption and terrorism. He said that Pakistan is getting bogged down because of corrupt and incompetent rulers. He said that oppression is at the heart of extremism among other factors. He demanded that justice should be provided to the Model Town victims. He asked the media to expose all elements involved in extremism and terrorism of every form. He said that he wanted to assure the nation through the National Peace Conference that Jamaat-e-Islami will be in the forefronts of efforts required for elimination of terrorism and extremism from the country.
Speaking at the Conference, senior analyst and columnist Qayyum Nizami said that the biggest crime against humanity is lack of tolerance. He said that when Dr Tahir-ul-Qadri spoke against political dirt, the exploitative class did not bear him. He said that the whole nation would have to reject oppression and lie for the sake of peace. He said that Dr Tahir-ul-Qadri challenged the forces of status quo with full force of conviction.
Mian Imran Masood, former education minister, paid rich tributes to Dr Tahir-ul-Qadri for his services for promotion of peace and knowledge. He said that the honour of chartering the Minhaj University goes to his party. He said that we are pleased that Minhaj University is producing generations of scholars equipped with modern and religious education. He said that PML-Q government gave communities their institutions. He said that extremism can be countered by making education productive and more accessible to all people. He said that our government asked the religious seminaries to start IT subjects by taking special funding from the government but the high-ups of the religious seminaries did not benefit from this offer. He said that we cannot achieve requisite results in the form of peace and stability if we keep the religious seminaries aloof from the mainstream.
PAT leaders namely Khurram Nawaz Gandapur, Muhammad Saeed and Sajid Bhatti thanked the guests for attend the National Conference.